Since making bread from scratch is such a lengthy process, I usually wait until the weekend before I undertake such a project. Well, this weekend I made bread not once but twice which is a lot of arm work since I knead by hand. And because we hardly ever make bread, the yeast in the fridge actually
expired several months ago

so I wasn't even sure if my bread would rise.
This method of bread making involves making a tangzhong which is a starter made from flour and water. Adding this to the bread mix results in a loaf that is soft and fluffy like the ones found in Asian bakeries.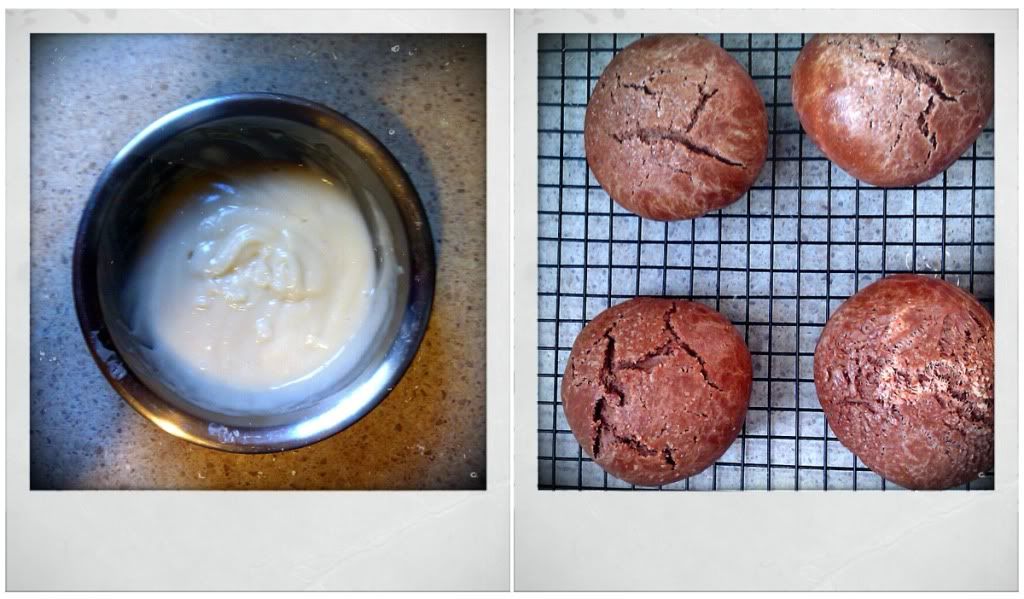 The first batch I made I was a little over ambitious and I decided to make chocolate buns. I really shouldn't tinker with recipes that I am trying out for the first time....Murphy's Law always holds true. As well as adding cocoa powder, I didn't knead the butter into the dough properly and so my ball of dough wasn't really a ball and it was nice and glossy rather than being round, smooth and matte. Also the oven was too hot hence the cracks.
I had another crack at it the next day since I had some of the starter left. This time I closely followed the recipe. The result? Buns so perfectly coloured, they look like they were airbrushed. Next time I will be back to tinkering with the recipe. ;)
Milk Buns
Adapted from Ivonne Chen, via
like a strawberry milk
Makes 6 buns
For the tangzhong
50g flour
250g water
For the dough
350g flour
55g caster sugar
1tsp salt
one egg
125g milk
120g tangzhong
one tsp instant yeast
30g butter
, at room temperature
For the wash
Milk or one egg, beaten
To make the tangzhong
Whisk together the flour and water until there are no lumps.

Cook this over a low to medium heat, whisking constantly until it reaches

65°C. Place in a clean bowl and let it cool.
To make the dough
Combine the flour, salt, yeast, sugar in a bowl. In another bowl combine the tangzhong, milk and egg.
Add the dry ingredients to the wet ingredients. Mix the liquid in until you get a sticky dough.
Turn the dough out onto a lightly floured surface and knead until it is smooth and elastic, about 10 minutes. You will know when it is ready when you can stretch a piece of dough until it is very thin without it splitting.
Work the butter into the dough and knead until it is smooth.
Transfer to a lightly floured bowl and let it rise for 40 - 60 minutes or until doubled in size.
Scrape the dough out onto a lightly floured surface and punch to deflate. Divide the dough into 6 piece and knead each piece into a ball.
Place onto a baking sheet lined with baking paper and let the dough rise for another 40 minutes. While the dough is rising, preheat the oven to 180°C or 170°C for fan-forced ovens.
Brush the dough with the eggwash or milk.
Bake for 20 - 30 minutes until the bread is golden brown. Transfer to a wire rack.