I discovered this method of baking bread where you let the dough rise overnight in the fridge. It allows for the flavours to develop because the yeast grows at a slower pace...or something.
At 9pm last night I decided to try this
recipe
out. It was a bit wordy and I really wanted to sleep soon so I only glanced over the method, and subsequently mis-remembered a number of things. The original steps from
A Bread a Day
proceeds each of my "words of wisdom" in italics.
1. In the bowl of a stand mixer, whisk together all but a handful of the flour and all the yeast. Add the water and mix with the dough hook at low speed until a rough dough forms, about 1 minute....
Mistake 1
I used all the plain flour I had for the dough mixture, no "handful"of flour set aside here.
Mistake 2
I decided to mix flour, water and SALT together, rather than yeast, then let it stand. Um, Mabel, what happened to letting the yeast multiply in this nice warm environment?
2. Remove the plastic wrap, and add the salt....
Mistake 3
When I read this step, I realised my mistake. So what did I do? I sprinkled the yeast as evenly as I could on top of the dough and proceeded to incorporate it in. *Smack head in frustration*
3. Turn the dough out onto a lightly floured surface, and knead a few times, forming the dough into a round ball with a skin stretching over the outside. Transfer to a lightly oiled bowl, smooth side up. Cover with plastic wrap and refrigerate overnight, or for about 8 hours.
Mistake 4
Oh no! I forgot to reserve some flour for the kneading, and since I had run out of plain flour, I proceeded to use cornflour (gluten-free), another boo-boo. Nonetheless I started kneading and it began looking like a nice firm ball, but then 10 seconds later, it became a sticky flaccid mess. I searched for this "skin" that the recipe called for but to no avail. No matter how much cornflour I added to the dough, it reverted to its original stickiness. So I rolled the sticky gloopy dough into a clean bowl, covered, refrigerated, and hoped for the best.
4. Let the dough stand at room temperature for 45 minutes to 1 hour before proceeding. Line a large baking sheet with parchment paper. Gently deflate the dough, and turn out onto a lightly floured surface. Flatten the dough into a slight rectangle or oval shape. Fold the two corners furthest away from you into the center of the dough, as though you were beginning to fold a paper airplane. Starting with that point, roll the dough up into a cylinder, pressing gently to seal as you roll. Press the final seam to seal. Transfer the dough to the prepared baking sheet, seam-side down. Tuck the ends under if desired, to make a more attractive loaf. Cover loosely with lightly-oiled plastic wrap, and let rise until doubled in size, about 1 hour. Thirty minutes before baking, preheat the oven to 425º F, and place another baking sheet or oven-safe pan in the bottom of the oven. If you have a baking stone, heat it with the oven. If not, your baking sheet is fine.
Mistake 5
I was hoping in the morning that the dough would magically come together overnight to form a ball, but no, it had just oozed to the sides. Something was growing though as there were air bubbles on the surface. When I peeled the sticky flaccid mess out of the bowl and onto the countertop for "deflating", the underside was pockmarked with lots of holes. The yeast was alive!
I tried to shape it the way described but I'm a visual person, and I got lost after shaping it into "paper airplanes" and "rolling into cylinders". So I squished all the air out, formed it into an asymmetrical log with an unintentional lip and dumped it into the loaf tin. Covered it with a towel and proceeded to make a bento box for this competition at
Bento & Co
instead. At this stage, I really couldn't care less. I had given up on my first attempt at bread.
5. When fully risen, and using a sharp serrated knife or clean razor blade, make three decisive slashes in the top of the loaf at a 45º angle, evenly spaced. Transfer the bread to the oven (or baking stone, if using). Immediately throw 4 or 5 ice cubes into the hot pan on the oven floor. Bake for 10 minutes, adding additional ice cubes as they melt.
Mistake 6
Since I felt it was futile to do anything more with this lump, I didn't bother with the slashing or the throwing of ice cubes into the oven. I did cook
tofu cubes
while the bread was baking, perhaps that provided enough moisture in the air. I think the only thing I did follow in this recipe was the temperature. I'm very good like that. Did I mention that I had to convert the ingredients down as I didn't have enough flour to begin with?
Baking is an exact science from what I have read but seriously before all of this rigorous scientific understanding of how gluten interacts with proteins interacts with enzymes etc etc, how did our ancestors do it?
The Verdict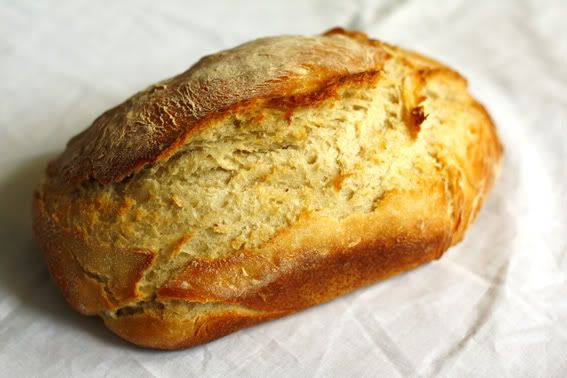 OMG times infinity! The loaf more than exceeded my expectations. The crust was crunchy and chewy at the same time. Tick.
The inside was soft and fluffy like supermarket bread. Tick.
I left it on the cooling rack and forgot to try it while hot, but even then it tasted fantastic. Two ticks.
I wonder how this bread would turn out if I actually
followed
the instructions? To be honest I don't think I could duplicate what I did. Perhaps it was the cold ambient temperature of the kitchen which helped. Perhaps it was my lack of kneading. Who knows! Have you tried this overnight fermentation method before and were you successful?