Today we are looking at wheatgerm. I always thought it was one of those additions that cost you an extra $1 at a certain well known juice joint. Adding wheatgerm/echinacea/wheatgrass gives you that happy-feel-good-about-yourself buzz that you're doing something healthy but we all know that guzzling down a 98% fat-free yoghurt smoothie doesn't necessarily mean it is free of sugar.
So for today's roadtest I am not heralding its nutritional value, but if you happen to have a whole bag of wheatgerm lying around from a health-food fad (like me), this is another way of using up all that wheatgerm you bought.
It actually tastes quite nice with a smidge of cream cheese on top. Wheatgerm crackers are indeed a lovely snack by itself.
What ingredients are sitting in your cupboard waiting to be used? Truffle salt? Bonito flakes? In my case it's oat bran.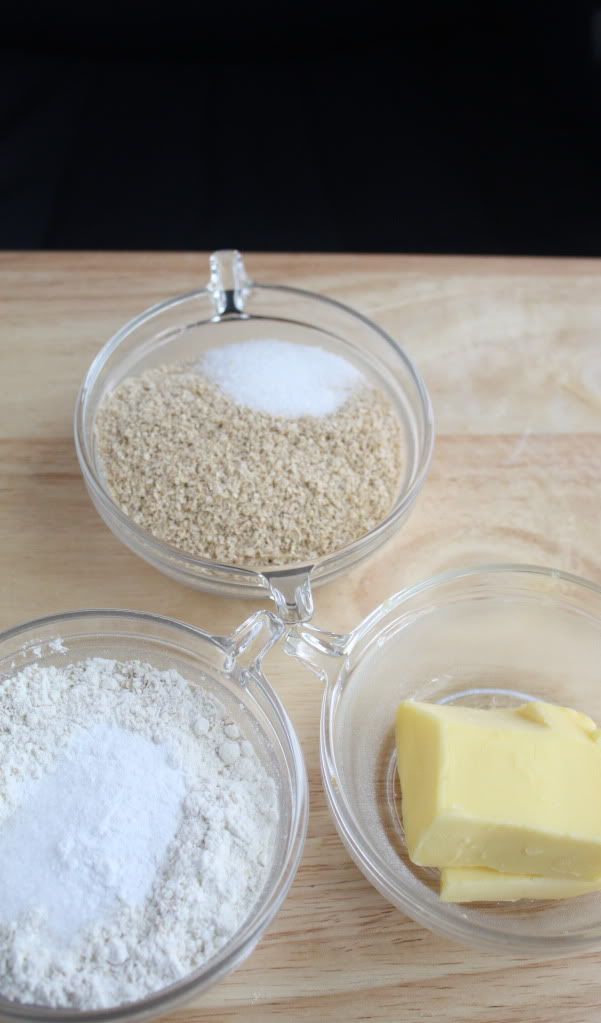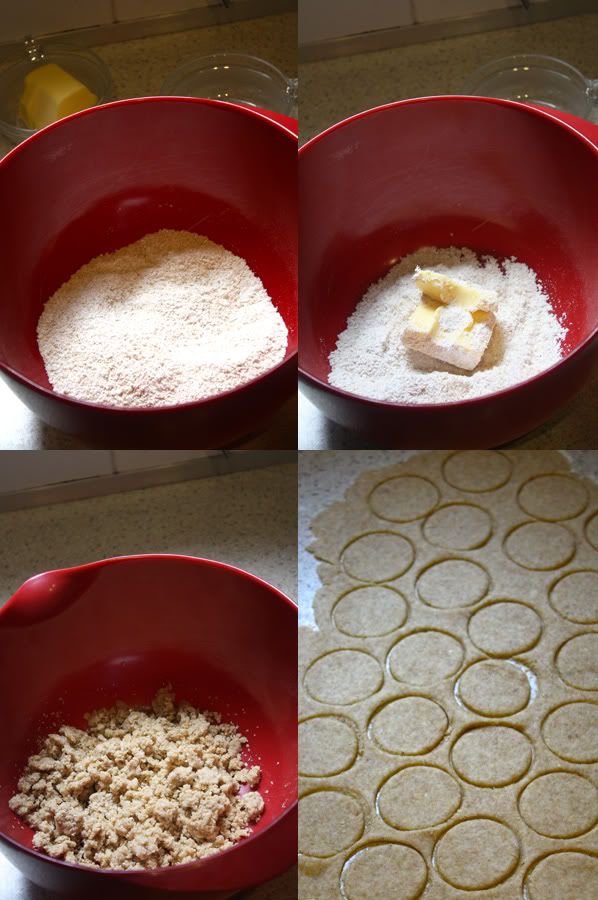 Wheatgerm Crackers (adapted from Australian Women's Weekly)
Ingredients
1/2 cup wholemeal plain flour (or plain flour with some oat bran: another bag to be used up somehow)
2 teaspoons baking powder
1/2 teaspoon vegetable salt (plain salt can make do)
1 teaspoon white sugar
3/4 cup wheatgerm
60g butter
2 tablespoons water
Method
1. Sift flour, baking powder and salt into a mixing bowl. The husks leftover in the sieve are returned to the mix.
2. Add sugar and all the wheatgerm to the bowl. Mix lightly.
3. Rub in the butter until mixture resembles fine breadcrumbs. Then stir in water.
4. Gather dough into ball and place on floured surface, knead lightly for a couple of minutes. If the dough is too sticky add more flour.
5. Roll it into a long cylinder to about 5cm in diameter. Wrap in cling film and pop in the fridge to harden up - easier to slice into circles, you see. I learned the hard way. With my first batch, I rolled the dough out flat and made circles, only to discover that the dough had stuck to the counter top. I ended up with many misshapen crackers. Second batch I discovered the powers of the fridge.
6. After an hour or so has passed, take the dough out of the fridge to see if it is ready to slice. Slice away into rounds, place on lightly greased baking trays.
7. Bake at 180°C for about 10 to 15 minutes or until light golden brown.
8. Cool on baking tray. Makes approximately 30. Or in my case 20 since I ate 10 while they were cooling.