The recipe card may call them "Oatmeal Nutties" but really they are just a tweaked version of ANZAC biscuits. Funnily enough underneath the oatmeal nutties recipe there is a recipe for ANZAC biscuits.
These cookies are incredibly easy to make, it is a one bowl & one pot recipe. There is no need to cream any butter or to carefully fold in flour. There is no need to chill the dough in the fridge or to roll it out to 1/4 inch thick. All things I loathe to do, especially when the fridge is already so full, it is impossible to be cramming in two baking trays with carefully shaped cookies. Or worse into the freezer where the trays will be at creative angles.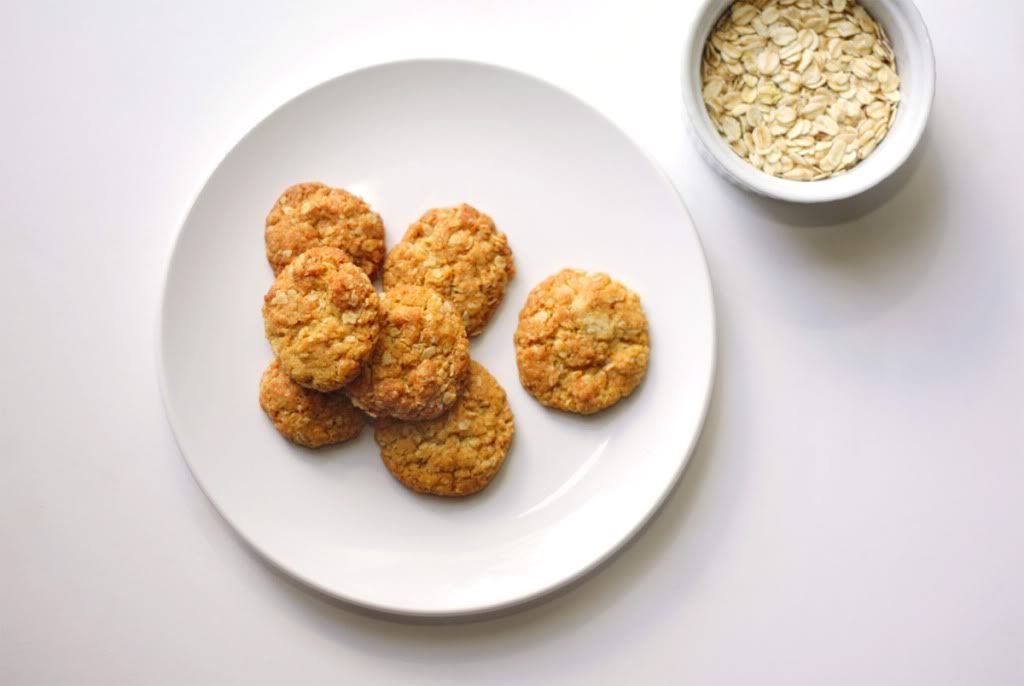 Oatmeal Nutties
(Adapted from Australian Women's Weekly)
Ingredients
1 cup rolled oats
1 cup dessicated coconut
3/4 cup plain flour
3/4 cup caster sugar
1/2 teaspoon salt
125g butter
2 tablespoons water
2 teaspoons golden syrup or treacle syrup
1/2 teaspoon bicarb soda
Method
1. Line each baking sheet with baking paper. Preheat the oven to 180°C or 170°C for fan-forced ovens. Sift the flour and bicarb soda into a large bowl.
2. Add the oats, coconut, sugar and salt. Stir until combined.
3. In a saucepan over medium heat, combine the water, butter and golden syrup. Stir until the butter has melted. Add this to the dry ingredients and mix well.
4. Scoop the dough using a teaspoon and shape each one into a ball.
5. Place on the baking paper, 2.5 cm apart to allow for spreading. Bake them for 10-12 minutes until they are golden brown.
6. Let them cool on the baking sheet for a couple of minutes until they harden up a little and transfer them to a cooling rack. Allow to cool completely and place in an airtight container.
Makes about 50 little cookies.