Thought for the day
Be kind to your neighbours.
Why?
We live in a block of units so come dinner time all sorts of smells are wafting around. Sometimes it smells like caramelised onions, sometimes roast chicken, and sometimes a fragrant blend of spices. It used to drive me nuts wondering where that smell emanated from. Not our unit that's for sure. We're a bunch of spice newbs.
Well one day I came home to a bowl of scary red curry chicken from our upstairs neighbour. This was in payment for IT support given by my husband. The curry was a heady blend of ginger, lemongrass, curry leaves and I know not what else, since this neighbour doesn't have a recipe. Cooking from the heart he says. Isn't that the most hackneyed overused expression? If you hear me saying that you can take away my between-meals kitchen access privileges.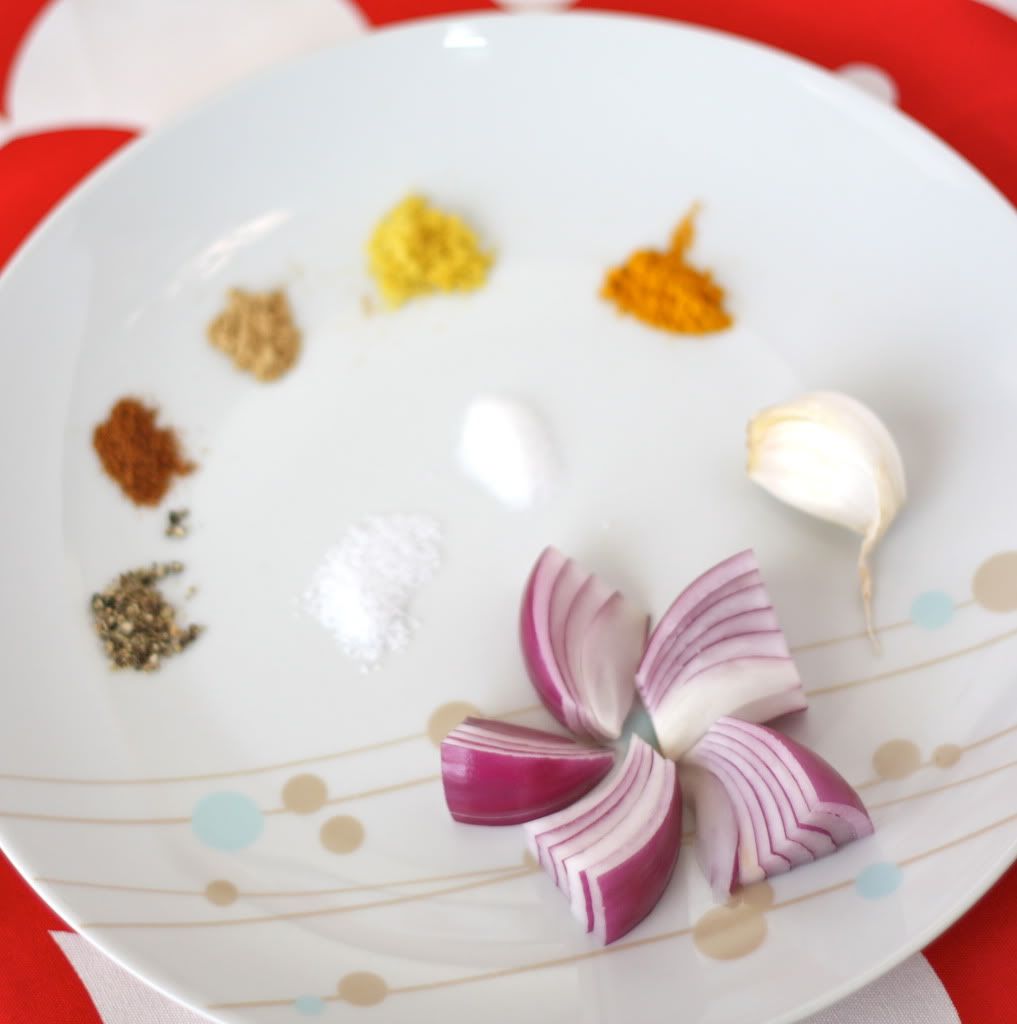 Spices used in Indonesian Chicken
With one tall glass of milk on hand, the curry was not ridiculously spicy. The chicken was tender even after reheating and the flavour permeated through to the bone. I'm glad this neighbour is now our food swapping friend.
With dreams of eating curry again, when I saw this recipe in the Australian Women's Weekly (AWW)
recipe box
for Indonesian chicken, I knew I had to give it a go. The result was surprisingly good. Real spices were used in the recipe which seems to be ahead of its times (circa
1979
). This dish is easy to prepare. The meat is marinated the night before. Then simmered in coconut cream before being browned for colour and extra 'brown' taste, you know what I mean. It doesn't match our neighbour's curry but is a close second.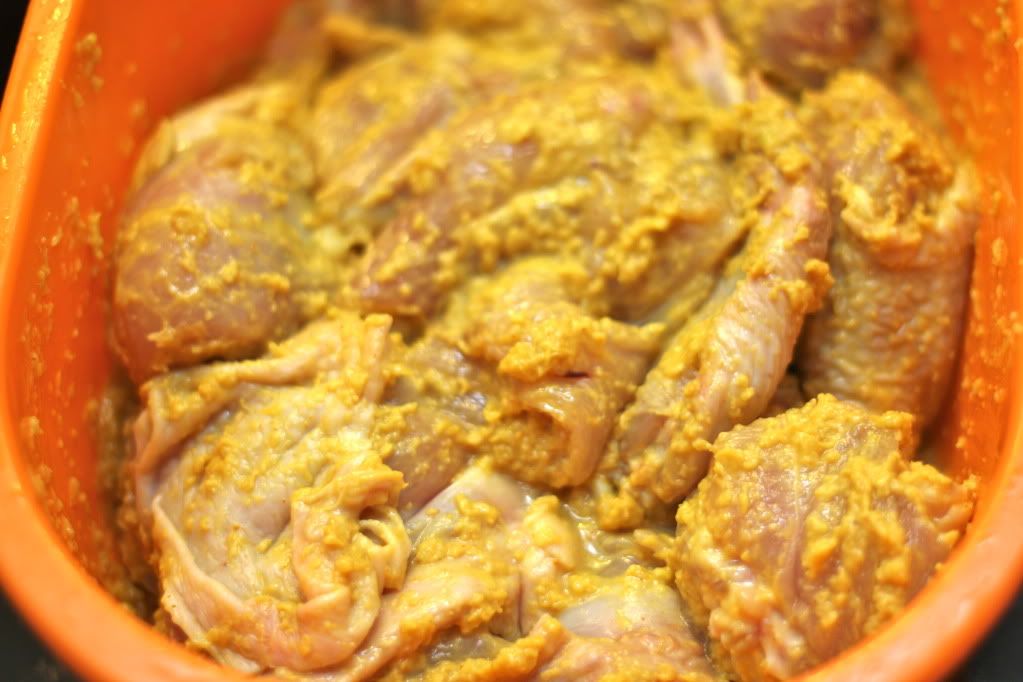 Chicken marinating in the curry mixture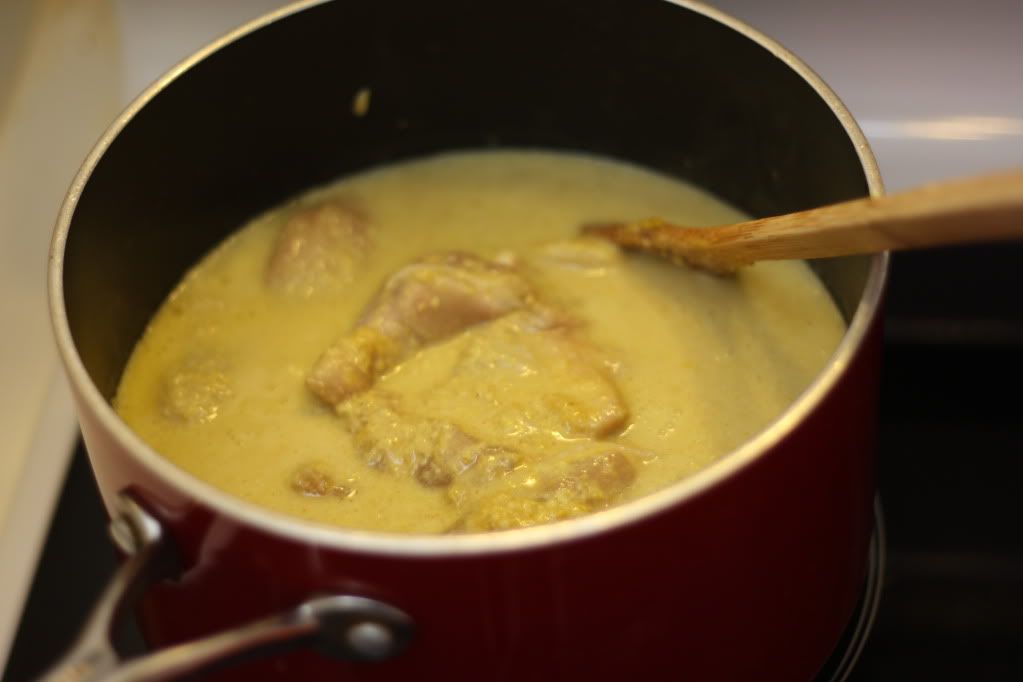 Chicken cooking in the coconut cream
Served with steaming hot rice and salad.
Next time you see your neighbour, say 'Hi". You may also experience an awesome curry!
What nice thing have you done for your neighbour?
Indonesian Chicken (adapted from Australian Women's Weekly)
Ingredients
1 whole chicken, or 1 kilo of chicken drumsticks
1 cup coconut cream
1 cup water
1/2 teaspoon turmeric
1 teaspoon salt
1 teaspoon ground ginger - you could use fresh ginger
1/2 teaspoon black pepper
1/2 teaspoon cayenne pepper - adjust according to your spice tolerance. I didn't add any.
2 tablespoons peanut butter - trust me, it works
1 tablespoon water
1 onion, blitzed in the food processor/stick blender (you might need to add in a little bit of water to help move the onion in the receptacle), or finely chopped
2 cloves garlic, finely chopped
1/2 teaspoon grated lemon rind
oil for frying
Method
Spice paste
1. Saute the onion and garlic in oil until it smells fragrant.
2. Add in the spices: turmeric, salt, ground ginger, black pepper and cayenne pepper (if using).
3. While that is cooking, make a paste of the peanut butter and one tablespoon of water. Add that into the spice mixture. Stir until your kitchen starts smelling like a street market stall i.e. one or two minutes.
4. Cool this down and then rub it into the cut up chicken. I cut my whole chicken up into big one-eight pieces. I let it marinate overnight to allow for maximum flavour penetration.
Cooking the chicken
1. Gently warm up the coconut cream and water, plus lemon rind. Do it on a gentle heat and keep stirring, otherwise the cream will curdle like mine did. Still tastes fine, but looks a bit iffy.
2. Throw in the marinated chicken pieces and cook until 90% done; approximately 20 minutes on a gentle simmer. This will depend on the size of your chicken pieces. You'll know it's cooked when you prick the chicken with a fork and the juices run clear. Check a drumstick/thigh piece as this takes longer to cook.
3. Then take out the chicken from the curry mixture, heat up a frypan and brown the chicken pieces on each side. Don't walk away! It only takes a couple of minutes for a brown crisp to form. Drain on paper if you are concerned about the fat content. Add them back into the curry when serving.
Notes
I kept the chicken skin so once everything was cooked there was a distinct half centimetre layer of oil. I think maybe the cream and oil split too. If you find yourself in this position, take the chicken out of the curry sauce, then reduce the sauce in a frypan with a wide surface area (helps speed up the process). I reduced it for about 15 minutes. Then I waited for the cream to settle to the bottom, then scraped the oil from the surface of the sauce with a spoon. I'm guessing this process would be completely unnecessary if you used skinless chicken and didn't boil the heck out of the cream.